Dutch consortium unravels first tulip genome
A consortium of three leading Dutch organisations, BaseClear, Generade and Dümmen Orange, has been collaborating since May 2017 with the aim of making tulip breeding and production faster and more sustainable.
Netherlands - De Lier/Leiden, 31 October 2017 – A consortium of three leading Dutch organisations, BaseClear, Generade and Dümmen Orange, has been collaborating since May 2017 with the aim of making tulip breeding and production faster and more sustainable. The first results were announced today: using the latest technologies, it is now possible to identify the DNA sequence of the tulip genome. This is one of the biggest genomes ever sequenced: a world premiere with its origins in the Dutch city of Leiden. Within walking distance of the Hortus Botanicus, the first tulip bulbs were planted by Carolus Clusius at the end of the 16th century, which laid the foundation for this iconic Dutch product. The results will be made available to the public so that the knowledge gained can be fully utilised.
The tulip genome contains large chunks of identical DNA which occur extremely frequently. By isolating these chunks in an intact form and reading them with the help of a DNA sequencing technology, so that the ends have a unique DNA sequence, it is possible to map the entire genome with powerful bioinformatics tools.
The consortium has demonstrated this in recent months using sequencing technology from Oxford Nanopore Technologies and the TULIP algorithm (The Uncorrected Long-read Integration Process) developed by Generade and Future Genomics Technologies. A unique feature is that the genome of the very common garden tulip Tulipa gesneriana is the biggest genome that has ever been sequenced. Its size is estimated at approximately 34 giga base pairs, nearly 11 times larger than that of humans. Over the coming months, the DNA of the tulip variety Orange Sherpa will be repeatedly sequenced to give better resolution and the billions of pieces of the DNA puzzle will be fitted together with the help of TULIP.
The tulip genome reveals how the DNA determines the characteristics of a tulip. DNA patterns that are linked to desirable characteristics will soon be used in advanced breeding so that these characteristics can be combined to give new, improved varieties. With this knowledge, new tulip varieties which are resistant to common diseases can be developed faster and in a more targeted way. This will also reduce the use of plant protection products.
Hans van den Heuvel, Director Research & Development at Dümmen Orange: "The tulip genome makes the human genome look tiny: the entire human genome fits into one tulip chromosome. With the technology that was available at the turn of the century, this job would have taken over 100 years, an impossible task. But now we can do it in a matter of days. Data analysis is in full swing and there is no doubt that it will produce information which will transform tulip breeding, making it faster, more predictive and above all 'greener' because we will focus on varieties that can be grown sustainably."
Helma Kaptein, Director of Generade: "This genome will be made available in the public domain. It represents an important first step towards innovation in the tulip industry, a sector that is facing social and economic challenges, and will show the Netherlands, where the tulip is highly prized both culturally and as an icon, how public-private cooperation can achieve sustainable and innovative development in a traditional agricultural sector."
BaseClear is the biggest independent DNA analysis laboratory in the Netherlands. Bas Reichert, CEO of BaseClear, outlines his commitment to this project: "This project has demonstrated the impact and applicability of the latest DNA technologies in the ornamental horticulture sector. It proves that this technology is now feasible and affordable. The use of DNA technology will further accelerate developments in the ornamental sector and make them even more sustainable. We are proud that, with our partners in this project, we can make a contribution to a greener world in this way."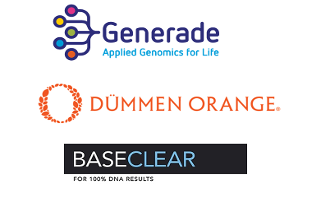 Company profiles
Generade
Generade is a Centre of Expertise Genomics in Leiden. In Generade, biotechnology company BaseClear, Leiden University of Applied Sciences, Leiden University Medical Centre (LUMC), Naturalis Biodiversity Center and Leiden University have joined forces to promote optimum, applied education, research and entrepreneurship.
BaseClear
BaseClear is an independent laboratory service in the field of DNA research. BaseClear's enthusiastic, 65-strong team works on development of DNA technology from its laboratory in Leiden Bioscience Park. This technology is applied in contract research for BaseClear customers worldwide operating in many sectors, from the food and pharmaceutical industries to plant breeding. Innovation and quality are the top priorities in the services provided by this specialist laboratory. In terms of innovation, BaseClear works with many knowledge partners; quality is assured by compliance with ISO and GMP quality standards
Dümmen Orange
Dümmen Orange is a leading company in the breeding and development of cut flowers, bulbs, succulents, pot plants, bedding plants and perennials. Its annual turnover is approximately EUR 260 million. The company employs more than 7,000 people worldwide. In addition to a large marketing and sales network, Dümmen Orange has a strong network of production sites. The key to Dümmen Orange's success is a broad and deep product range, supported by a global supply chain. The company embraces its social responsibilities and invests in the health, safety and personal development of its staff.
More information:
Helma Kaptein – Director of Generade
kaptein@generade.nl / +31(0)6 39 11 50 48
Bas Reichert - CEO BaseClear
bas.reichert@baseclear.com / +31(0)71 52 33 917
Marco van der Sar – Marketing and Corporate Communication Manager at Dümmen Orange
m.vandersar@dummenorange.com / +31 (0)6 23 20 84 77