Dümmen Orange opens state-of-the-art Elite facility in Germany
Global plant breeder and propagator invests in future of business by opening a state-of-the-art Elite facility as part of their Greencare policy. A next step to secure worldwide disease free starting material.
Rheinberg (Germany), 31 May, 2018 | Dümmen Orange, leading breeder and propagator has opened its new Elite facility on May 30th in Rheinberg. During the ceremony the doors of the Elite facility were officially closed by Biense Visser, CEO of Dümmen Orange and Frank Tatzel, Mayor of Rheinberg. The closing is the starting point of our new hygiene Greencare policy in the greenhouse. The high tech greenhouse will secure a disease free production start for all Dümmen Orange Bedding Plants, Perennials and Pot Plants and is going to be the backbone of our global production locations. Together with our partners we celebrated the result of years of preparation and development.
The Elite Rheinberg facility is an important milestone in the development and implementation of our Greencare policy. Greencare describes the mandatory preventive hygiene measures for people and locations to keep plants clean. It sets guidelines for the control of a clean plant stock through diagnostic tests, scouting on pests and diseases, audits and inspections. With Greencare, Dümmen Orange sets the highest level of phyto security in the industry, which can only be achieved through facilities that outperform and reduces risks for our own operation and customers.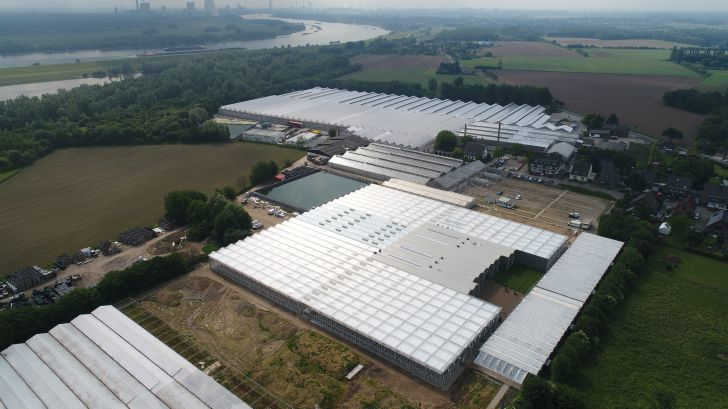 Biense Visser: "We take our responsibility for avoiding worldwide distribution of plant diseases. A state-of-the-art facility designed according to the world's highest hygiene standards is a sound investment for us, looking at the value it will bring to our customers. This is a huge step for our phytosanitary program Greencare. Start Clean, Stay Clean reached a next level at Dümmen Orange."
How do things work at the Elite facility?
New plants are entering a system via a controlled quarantine process in a separated zone. Mandatory laboratory testing is being scheduled in all our productions phases. The facility will be used for two strictly separated activities, Q-Phase (Quarantine Phase) and our Elite stock. The Q-Phase plant material will be assessed and tested on plant pathogens by use of lab-tests, bio-assays and visual checks. In the Elite stock we maintain our clean tested genetics to supply our production facilities with secured genetics/plant material.
Frans de Bloois, Phytosanitary Officer, and Elite Manager at Dümmen Orange: "We truly raise the bar on how we handle our products. Authorized staff can only enter the facility after they have showered. The facility is equipped with an overpressure system in order to keep insects and pathogens out. Each plant will be treated as a separate hygiene entity, supported by a unique (rolling) table system. This way of working will strengthen and secure our internal process and also our strong customer relationships by being a trustworthy supplier! "
Please follow us on Facebook, LinkedIn and Twitter to see the developments of our Elite Rheinberg facility.
###
DÜMMEN ORANGE
Dümmen Orange is a leading company in the breeding and development of cut flowers, bulbs, tropical plants, pot plants, bedding plants and perennials. Its annual turnover is around €360 m. The company employs over 7,700 people worldwide. In addition to a large marketing and sales network, Dümmen Orange has a diversified network of specialized production sites. The key to the success of Dümmen Orange is a broad and deep product range, supported by a global supply chain. The company embraces its social responsibilities and invests in the health, safety and personal development of its staff.
For more information please contact:
Frans de Bloois – program manager Greencare
f.debloois@dummenorange.com / M. +31 630 442 802
Benjamin Goepferich – Location Manager Rheinberg
b.goepferich@dummenorange.com / M. +49 1725627730