Dümmen Orange farm in Uganda celebrates 25th anniversary
Employees and guests of the Dümmen Orange farm in Uganda celebrated the 25th anniversary of the propagation facility on October 7. Various ceremonies and activities marked the festivities, which were appropriately concluded with a thunderous party for staff and guests.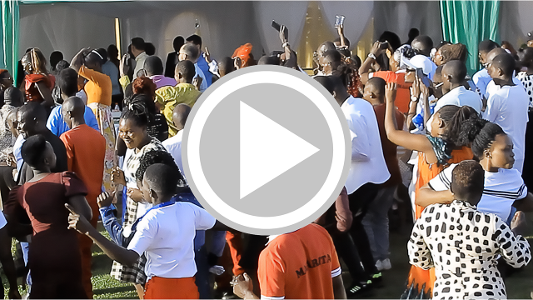 Ellen Mackenbach-Lakeman, CHRO of Dümmen Orange, who attended the celebrations in Uganda: 'A beautiful milestone for a beautiful company, that has been sailing a solid course since its establishment in 1998, and under the Dümmen Orange flag since 2015. We are very proud of what we have achieved here together, and what we will still achieve in the future.'
The farm employs close to 700 employees – going up to 800 in peak season – and produces 630 million cuttings annually. In the year 2000 it enrolled for Quality Management System certification, which greatly enabled the farm to achieve a structured quality management system. It is now fully FSI compliant and holds certificates for MPS and Greencare. Over the years, the farm won several accolades from the Ugandan government, such as Best Employer of the Year, Best Exporter of the Year, and Best Investor, among others.
Opportunities for personal and professional development
Yaeger Adlam, Managing Director: 'Our people here benefit from the worldwide Dümmen Orange Employee Development program, which gives them access to a range of internal and external training modules, and opportunities for personal and professional development. Also housing, free medical treatment from the in-house clinic, and other welfare facilities are part of our benefits for employees in Uganda.'
It started with eight people
The history of the farm starts in 1996. Back then, John Rutten of Fides – a predecessor of Dümmen Orange – together with a team of seven people started a pilot project for producing and exporting chrysanthemum cuttings on 1,2 hectare of planted area at Nsimbe Estates. As the pilot was successful, land was bought with the aim of expanding and investing more. The farm was officially incorporated as Fiduga on October 29, 1998.
Yaeger Adlam explains why investing in Uganda was attractive: 'Favorable climate conditions throughout the year and good government policies towards investors made it attractive to invest. On top of that were adequate water sources and a good communications facilities infrastructure.'
Of the 40 hectare in 1998, eight hectare was planted with rose plants. Since Fiduga's main focus was on producing chrysanthemum cuttings, this rose area was rented out. After three years the company decided to phase out roses in favor of chrysanthemum cuttings, and started to construct more greenhouses, as well as changing wooden greenhouses to steel. More buildings and facilities were built, such as a dining hall, workshop, stores and an HR office. Staff quarters were extended, new roads constructed and old ones repaired. A Day Care Center appeared, as well as Lake Fiduga. In addition, 27 shallow wells and two bore holes were constructed to give the community access to clean water.
Supporting floriculture in Uganda
Management and employees of the farm also worked on improving the floriculture infrastructure in Uganda in other aspects. Yaeger Adlam: 'We worked closely with the Ministry of Education to revise the curriculum for those taking Agriculture at the two relevant institutions in Uganda, which are Mountains of the Moon University and Bukalasa Agriculture College. Floriculture is a separate course by itself now. This has enabled the industry in our country to get qualified employees.'