Dümmen Orange farm in Embu celebrates 40th anniversary
Employees and guests of the Dümmen Orange farm in Embu (Kenya) celebrated the 40th anniversary of the propagation facility on March 24. Sports activities, award ceremonies and a spectacular party added to the splendor.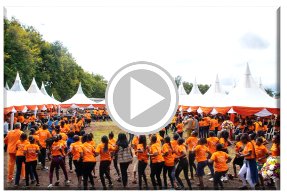 Hugo Noordhoek Hegt, CEO of Dümmen Orange, who attended the festivities: 'We are extremely proud of our farm in Embu, a modern facility that in 40 years has grown from 3 to 22 hectares. We had and have a fantastic team here, now over 1200 people at peak times, and I would really like to thank everyone who made this possible.'
The farm was founded in 1983 by Yoder Brothers from the United States and taken over in 1996 by the Japanese Kirin Brewery, one of the predecessors of Dümmen Orange. After a number of ownership and name changes, the farm has been operating under the Dümmen Orange umbrella since 2015.
'Back in 1983 they started with just a few crops, but now well over 50 crops are grown here, some all year round, others seasonal,' says Jan Molenaar, Managing Director of the farm. 'The transformation from the original chrysanthemum farm to the complexity of all the crops produced nowadays would not have been possible without the commitment and dedication of the Embu farm's employees, most of which reside within the farm with their families.'
Francisco Villasenor, one of the original pioneers and Managing Director for 27 years, describes how even in the early days the company produced gold standard chrysanthemum cuttings: 'We taught our working teams in ways they would own their work and made them know that from the farm to the world they were making some of the best cuttings world-wide.'
As one of the farm's longstanding business partners, Hans Straathof adds: 'We owe a great big thank you to all the people who have dedicated important parts of their working lives to make this the great farm that it is today.'